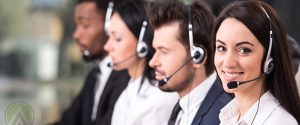 Inbound Call 
We manage call centres for brands with great care and integrity. We are responsible for the brand and see ourselves as the front line for the brand interaction with the customer. Such is the trust of brands that helloivr independently manages inbound consumer services for several leading firms operating in Odisha as well as Outside Odisha.
Our clients are from various industries including Education, Pharmaseuticals and more…Managing Inbound Call Centre Services is a specialist task requiring skills that are very different from outbound marketing.
Team members have to be trained very well on all processes and questions that callers may have. Voice recorders and training specialists have to be used to manage service and communication quality. The customer may come from anywhere, with any problem and with varying degrees of complexity. Managing inbound call centres is an expert task. Requiring experience, maturity and ability to handle pressure.
Outbound Call 
By developing potent relationships with the customers, a brand can accelerate its pace to achieve the business goals. The outbound call center services can be the best way to reach your potential or existing customers. Helloivr covers various prospects associated with the outbound call center processes to offer you an array of benefits.
An effective lead generation process is the secret sauce of various successful organizations. Whether you have B2B or B2C business, we will help you to find hot leads that have the highest chances of conversions.